Ronald Allan Clothiers was established in 1953 with a number of changes over the last 60 years to bring us to our current location which is 33428 South Fraser Way, Abbotsford, BC.
Our current location main floor has 5000 sq. ft. of retail space which is divided evenly between Men's and Women's fashions. We have an additional 5000 sq. ft. on the lower level for receiving, stock prep, tailoring, storage, staff and office areas.
We have over the years created relationships with numerous manufacturers and suppliers. A large number of these suppliers are companies that have been in business themselves for 30 to 50, and in some cases over 100 years, which gives continuity of quality and value in the products that they offer.
We have been fortunate over the years to have been recognized for Sales and Service awards including Chamber of Commerce Retailer of the Year, Abbotsford Business Excellence Awards-Retailer Excellence, Favourite Women's Designer Clothing Store, Favourite Men's Designer Clothing Store.
Our styles range from casual, to business casual, to corporate wear, and special occasion. From jeans to tuxes. From off the rack to custom order.
Some of our Brand names for Men include Agave, Alberto, Ballin, Brax, Bugatchi, Bugatti, Circle of Gentlemen, Coppley, Haupt, Jack Victor, Klauss Boehler, Jack Lipson, John Varvatos, Lacoste, Robert Graham, Signum, Stenstrom, Tommy Bahama, Van Gils, Without Prejudice, 7 Downie St, and many others.
For Women, names range from Adrianna Papell, Bops, Betty Barclay, Brax, David Cline, Good Works, Jag, Joseph Ribkoff, Lysse, Mac Jeans, Neon Buddha, Pure&Co, Sandwich, Steilmann, Sympli, Tommy Bahama and others.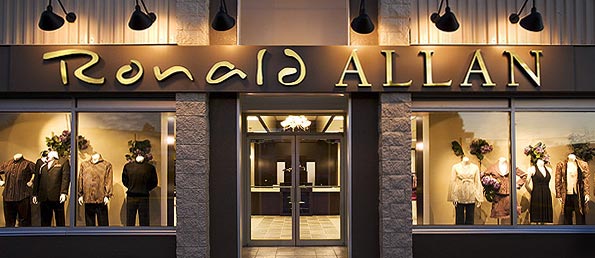 We are fortunate to have customers from all parts of the Fraser Valley, Vancouver, and also from Washington State to Vancouver Island and Alberta.
We feel that over the years we have offered value, service and selection.
To make that happen, we've formed partnerships with our staff, customers and suppliers. We have a great staff, great tailors, supportive suppliers, and loyal customers.
We are proud of our business and invite you to drop in and see what's instore.
Our location is 33428 South Fraser Way.
Thank you, from all of us at Ronald Allan Clothiers