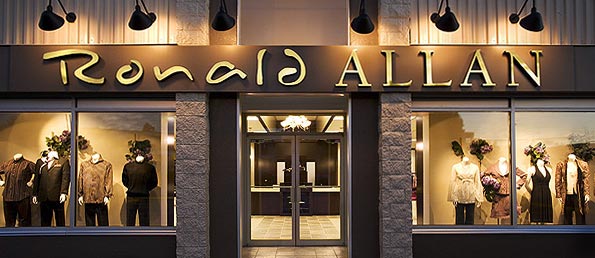 Ronald Allan Clothiers was established in 1953 with a number of changes over the last 70 years to bring us to our current location at 33428 South Fraser Way, Abbotsford, BC.
Our current location main floor has 5000 sq.ft. of retail space divided equally between Women's and Men's fashions. We have an additional 5000 sq.ft. on the lower level for receiving, stock prep, tailoring, warehouse, staff and office areas.
Our styles range from casual, business casual, to corporate and special occasion. From jeans to formal.
We also offer custom made to measure options for the Men.
Our collections come from Europe, USA, and Canada.
Brands for Women include Betty Barclay, Femme Fatale, Frank Lyman, Jag, Joseph Ribkoff, Lisette, Mac Jeans, Marble, Masai, Mos Mosh, Sandwich, Secrid, Sympli, Tommy Bahama, Up!, White Stuff UK, Zsiska and many more.
For the Men, A Fish Named Fred, Alberto, Ballin, Brax, Bugatchi, Bugatti, Coppley, Desoto, Emmanuel Berg, Haupt, Jack Victor, John Varvatos, Milestone, Robert Barakett, Robert Graham, Secrid, Stenstrom, Serica, Ted Baker, Tiger of Sweden, Tommy Bahama, 34 Heritage, 7 Downie St. and more.
We have been fortunate over the years to have been recognized for Sales and Service awards including Chamber of Commerce Retailer of the Year, Business Excellence Awards for Retailer Excellence and Service, Favourite Women's Designer Clothing, and Favourite Men's Designer Clothing.
We have customers from all parts of the Fraser Valley, Vancouver, Vancouver Island and Alberta.
We are proud of our business and invite you to drop in and see what's in store.
From all of us at Ronald Allan, Thank you for 70 years and counting.